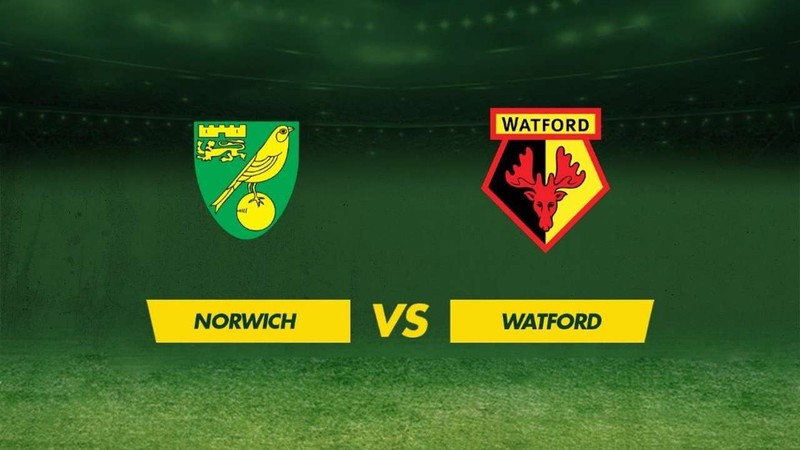 The Tale of the Tape:
Tonight comes one of the most important matches in Norwich City's season. This game against Watford tonight could make or break both team's hopes of escaping the drop. Should Watford beat Daniel Farke's side, they will have a 4-point buffer that will be tough for Aston Villa or AFC Bournemouth to overcome at this point.
Should Norwich win, could they then get the 5 points needed to overtake Watford? Stranger things have happened my friends, it would definitely be an escape à la Sunderland in 2014. Here's how it looks:
Gimme the Deets:
Teams: Watford vs Norwich City
Date: Tuesday 7th July 2020
KO Time: 18:00 GMT
Stadium: Vicarage Road
Managers: Nigel Pearson and Daniel Farke
Referee: Anthony Taylor
Where can I watch: Sky Sports Premier League, Sky Sports Arena, Pick TV & Sky One (UK) – Sky Sport HD 4 (DE)
Team News:
For Watford, their injury list in looking pretty clear. Gerard Deulofeu is still out, but he hasn't played since the Premier League returned after the Coronavirus and probably won't be seen until next season now. The same goes for Daryl Janmaat, who hasn't played since November. Other than that, this Watford squad is at full strength for this crunch game.
What makes Norwich's task here slightly tougher will be the absence from injury of Todd Cantwell, arguably Norwich's player of the season so far. He currently has a hamstring problem, but Daniel Farke has said that he hopes to have him back for the other crunch game against West Ham on the weekend. Alex Tettey is apparently having problems with his knee but could also be fit to start.
A Dream Waiting To Happen?
Honestly, I would love to back Norwich and have them win to give their fans just an inkling of hope for the forthcoming games. However, after watching them since the restart, they have done absolutely nothing to convince me that they are capable of getting any more points this season, let alone the 7 needed to catch Watford's current tally. As I said before, stranger things have happened, and if things somehow clicked as Farke thought they could at the start of the season, they have the creative potential to raise some eyebrows.
Please note the use of the word "potential", they have players like Buendia, who can play a hell of a pass, or Pukki, who can score goals when he's on his day, but their heads are down and nothing seems to be able to bring them up. Currently, it seems like most are just focusing on getting this season over and forgotten before they get their moves in the summer.
Within Touching Distance
Watford have been almost just as poor since the restart, a solitary point against Leicester City the only reason their not still tied with AFC Bournemouth in 19th. However, with a coach like Nigel Pearson in charge, who knows how to make a team work together, I think they can overcome this poor Norwich side. With Newcastle and West Ham as their next fixtures, who at this point have almost nothing to play for, this win could put a spring in their step and drive them to safety.
In the current scheme of things, I believe this win might be enough to see them safe, as Bournemouth and Villa have horror run-ins and are also showing no signs of garnering any points. I was arguing with a Cherries fan just yesterday about where their points are going to come from, and they're still confident they can see it out this season and stay up. Nigel Pearson might have something to say about it though and a 4-point gap would probably calm his boys a bit.
Predicted Score: 2-0 to Watford