The Tale of the Tape:
A couple of weeks ago, after their cool victory against AFC Bournemouth, I predicted that Roy Hodgson could take Crystal Palace into the Europa League. Boy, well if that isn't curse of the fantastic blogger, then I don't know what is, as Palace have lost 3 games in a row since, conceding eight goals and scoring none. In fairness, that was against 2 of the top-3, but that means that playing their third of the top-4 tonight isn't making it any easier for them…more on that later.
Chelsea, meanwhile, had a bit of a stumble against West Ham, as their opponents deservedly ran out 3-2 winners, a result that surely meant that Frank Lampard got his hairdryer out. That game aside, Chelsea have done excellently since the restart, winning all four of their other matches, including a calm and collected 3-0 victory over Watford last time out, who also play tonight.
Gimme the Deets:
Teams: Crystal Palace vs Chelsea
Date: Tuesday 7th July 2020
KO Time: 18:00 GMT
Stadium: Selhurst Park
Managers: Roy Hodgson and Frank Lampard
Referee: David Coote
Where can I watch: Sky Sports Main Event, Sky Sports Action (UK), Sky Sport Austria, Sky Sport HD 2 (DE)
Team News:
For Crystal Palace, Jeffrey Schlupp, James Tomkins and Martin Kelly are still out injured, while he rested some players against Burnley who could return. Otherwise, his team are looking ship shape and ready for this London derby. One worrying point, however, is that Hodgson has five players at risk of suspension, including captain Luka Milivojevic and star winger Wilfried Zaha, but would you expect anything else from Roy?
Chelsea's outlook is looking less than sunny, however, with N'Golo Kante out with a hamstring injury after the game against Watford, Mateo Kovacic is also expected to still be out but could return against Sheffield United. Fikayo Tomori is also still out with a muscle problem, but will apparently return to training this week. With 3 of their starting XI out, it will be a slightly reduced Chelsea side tonight.
Cancel The Passport Application?
After the professional performance against AFC Bournemouth, which I mentioned before, I really believed that Crystal Palace were one of the teams coming back best from the Coronavirus break. Maybe I would've been better served keeping my mouth shut though, as they have done absolutely nothing of note since then and have slipped down into the bottom half of the table.
Roy Hodgson should still be congratulated for a job well done this season though, as his Eagles team keep chugging on in relative Premier League safety. Nobody is really expecting more of them and it would've been a fairy tale had it happened. If they did get the win tonight, it may reignite some hopes and they would move within 3 points of Sheffield United (at least for the time being), which may give them a boost to climb the Premier League, but I'm not saying a thing….
The Lampard Saga Shows Some Bite
Apart from that aforementioned loss to West Ham, Chelsea have been excellent since the restart of the Premier League, and could definitely ride into 3rd at this rate. They have done brilliantly to chase down Leicester City, whilst keeping Manchester United at bay, and I expect them to continue that here. With Timo Werner already secured for next season, Frank Lampard is showing a shrewd approach to management so far.
Although his team are one of the youngest in the Premier League, hence their inconsistency thus far, next season would be a whole different ball game, should they secure Champions League. They are in pole position to qualify right now, and with their team coming back all the better for the experience next year, they could be looking scary.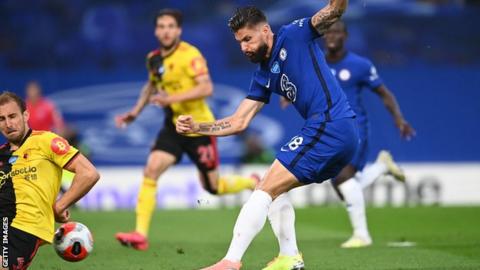 Predicted Score: 2-0 to Chelsea